Small Perfectly Formed Kitchen in Oyster
Small Footprint, Big Impact
In Anne's kitchen, the pale modern wood effect cabinets work seamlessly with the marble effect worktops and black appliances. Keeping the colors and layout simple, the design scheme successfully makes use of every inch of space available without overdoing it on the built-in. 
Working within the confines of a small space requires great discipline because you need to think carefully about function and aesthetic and how they work together. One great solve in this bright kitchen was to use floating shelves instead of upper wall cabinets.  It provided a way to lighten and open the space.
One larger, floor to ceiling unit houses the wet appliances, while the deep butler sink is naturally bathed in light under the kitchen window. 
Semihandmade kitchen cabinet door suit any size of kitchen. And since our doors fit harmoniously with IKEA cabinetry, you'll achieve a bespoke feel with the clever space-saving engineering.  
Anne Sage gives great advice about remodeling a small space.
"Get super realistic about how many pots, pans, baking sheets, mixing bowls, etc. you actually need and only keep the bare minimum."
3 TIPS TO SMALL KITCHEN SUCCESS
Keep your appliances and utensils to a minimum, we generally only use about half of what we own!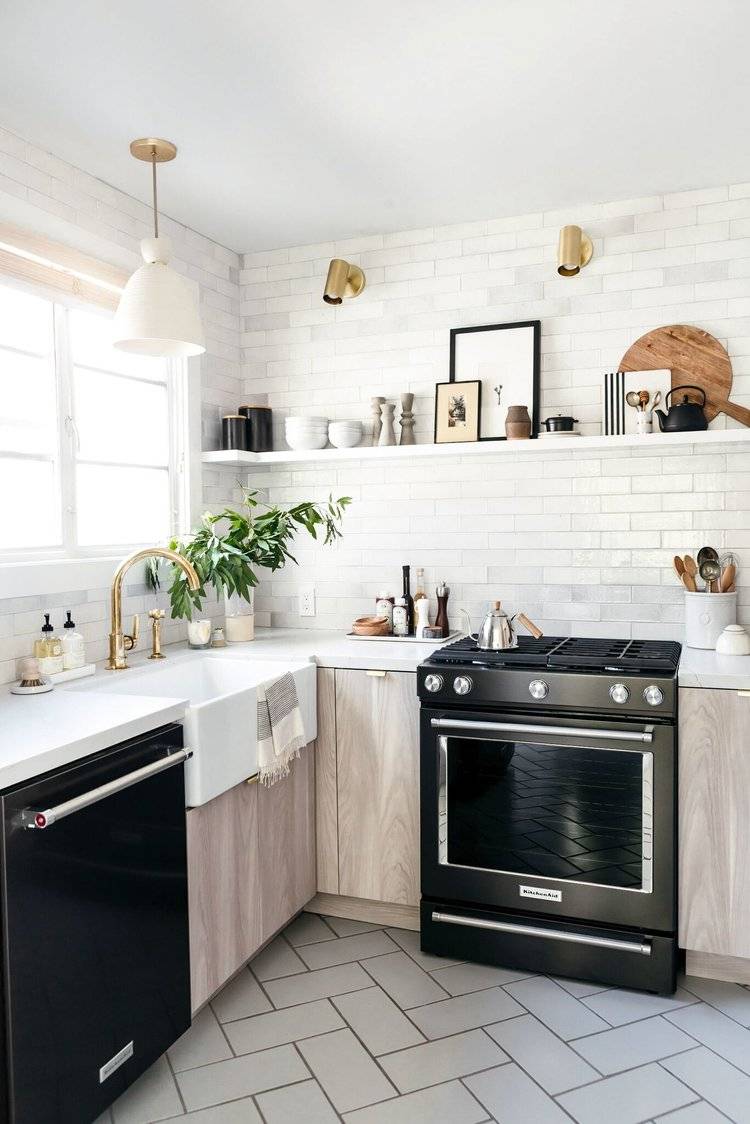 Work with a base of colors that you can count on one hand. Experiment with dark and light but be wary of too many colors in a small space, they can be overwhelming and make a place feel cluttered.
If you can afford an upgrade on your appliances then go ahead and do so at the time of the refit. If they are available in coordinating colors then better still.
When you invest in good storage, you invest in an organized home, so important in a small space. Our Oyster design adds warmth and a wonderfully natural aesthetic with clean lines, pared back colors and elegant brass hardware.
To personalize, you could display objects, like on the glorious open shelving in Anne Sage's Semihandmade kitchen, where she shows off her utilitarian style finds - a perfect contrast to the chic brass spots that light up the prep areas. 
For more information about starting your Semihandmade kitchen please check out our Process Page.
Explore Categories
Share Now